Welcome to Elder Activists for Social Justice
Community Conversation


3rd Thursday of each month
9:00 - 10:30 am PST / 12:00 - 1:30 pm EST


We participate together over Zoom video conferencing in a lightly-facilitated, educational and interactive conversation. We have time to deep dive into our topics using an Elder and social justice lens...always provocative, meaningful and community-oriented.
We began, three years ago, by looking at issues related to racism, white privilege, wealth inequality and Islamophobia, and have recently studied Native peoples' history, reconciliation and the moral voice of an Elder. Each month's topic grows from the previous month's and the interests of those attending.
Approximately two weeks before each meeting we may post resources about our subject which include relevant readings, videos, articles, and introspective questions. Our meeting format is participatory, and everyone has a chance to interact and share. All meetings are via Zoom video conferencing. Click for instructions and access to Zoom conferencing. ALL ARE WELCOME.
---
Our next Community Conversation will be on
Thursday, February 21 
9:00 - 10:30 am PST / 12:00 - 1:30 pm EST
Please invite your friends on Facebook too
Everybody's talking about The Green New Deal
What is it? Why is it gaining so much support from congresspeople, environmental organizations, young folks and activists? Can it really address the challenges of "continued economic growth and corporate capitalism" which are inherently toxic to continued life on Earth? Will the GND be a step towards leaving a healthy world for future generations?
Let's delve into the below articles, which have a good definition of where things are with the Green New Deal and insights on what it might mean for the well-being of our world.
We will also consider adopting and publicizing a Resolution of Support for the Green New Deal? A draft will be posted soon and sent in our newsletter.
In our Community Conversations we draw on the experience and wisdom of our group to better understand the critical issues we are facing and discern what actions we would want to take as elders in our society today and we offer moral support for each other as we grapple with the issues and challenges of our times and how to best share and support the activism that we are each engaged in.
Resources:
Could a Green New Deal Save Civilization? Richard Heinberg of Post Carbon Institute
"A Green New Deal that would fully address the climate/energy crisis would have to be far broader in scope than what is currently being proposed. Ultimately, we will need to mobilize society as a whole with a World War II-level of effort. Again, what's required is not simply to provide jobs to the un- or underemployed while building large numbers of wind turbines and solar panels; we will all need to live very differently and make some sacrifices."
Part 3 of the Slouching Toward Suburbia series
Gives very clear outline of features and political implications and possibility of the Green New Deal actually happening. -Molly A.
Joel Stronberg, Jan 21, 2019 - "The Green New Deal (GND) has clearly struck a chord with climate defenders. The most remarkable things about the GND, at the moment, are the breadth of its vision and how quickly the concept is being embraced by Democrats and environmental groups. It is even being talked about by deniers. It is all the more remarkable for the support it has garnered because it isn't actually there. The Green New Deal is the title of a story that's yet to be written. It being a work in progress is both blessing and curse."
That Green Growth at the Heart of the Green New Deal? It's Malignant.
Under the Green New Deal vision, investment in renewable energy and infrastructure production would be the mechanism for revving up the economy. But whatever shape it takes, this new New Deal would be born into a very different world from that of its predecessor—a world that can't handle a big economic stimulus. If we are to avoid climate catastrophe, we have to simultaneously bring an end to fossil-fuel burning and develop vast renewable energy capacity, both starting right now and both on a crash schedule. That means the everyday economy must find a way to run on much less available energy.
Further Resources and updated articles:
February 13, 2019  from Naomi Klein
THE BATTLE LINES HAVE BEEN DRAWN ON THE GREEN NEW DEAL
THE MORE SOBERING lesson is that the kind of mass power that delivered the victories of the New Deal era is far beyond anything possessed by current progressive movements, even if they all combined efforts. That's why it is so urgent to use the Green New Deal framework as a potent tool to build that power — a vision to both unite movements and dramatically expand them.
______________________________________________________________________________________________________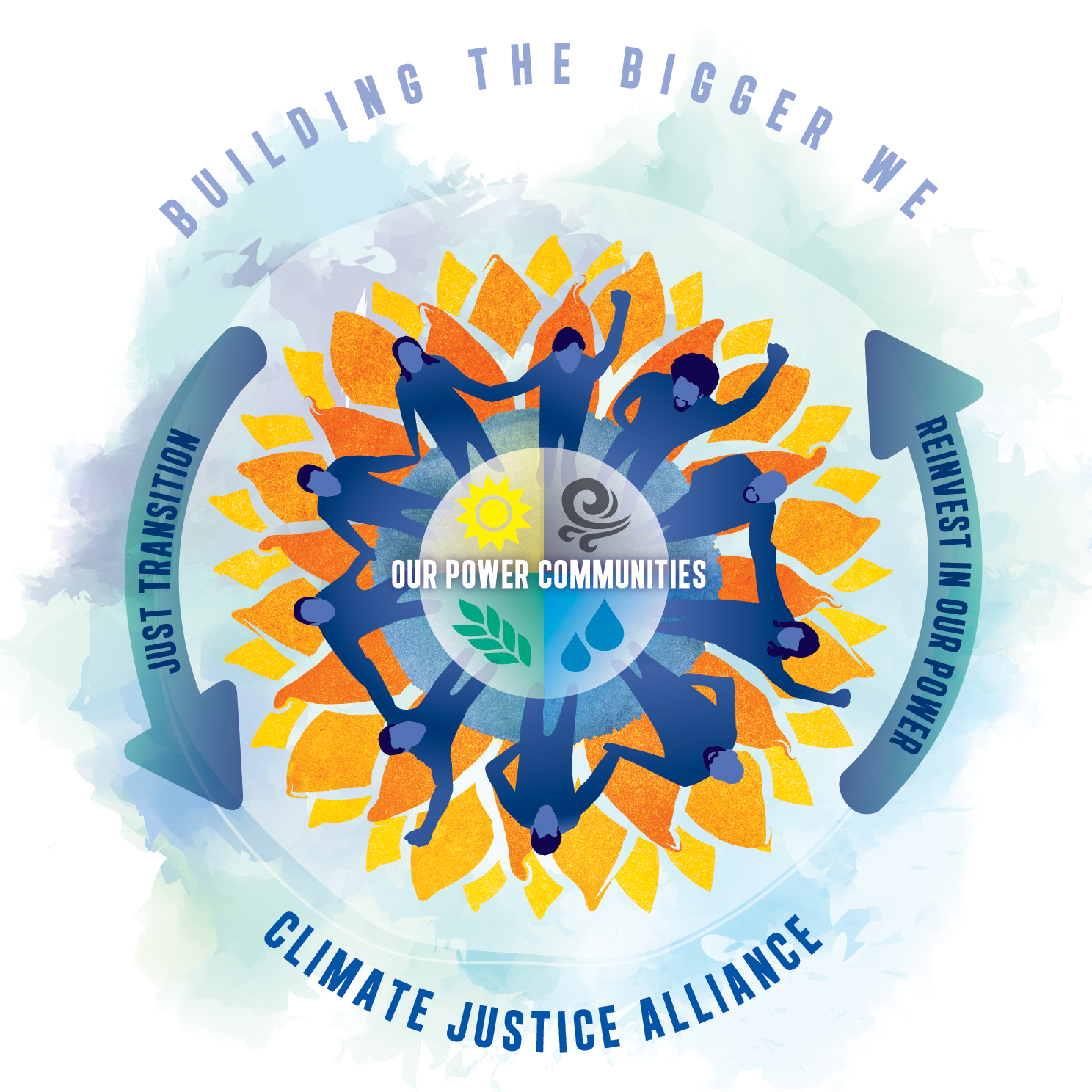 February 13, 2019 - More insightful input on Green New Deal from the Climate Justice Alliance--Green New Deal must be rooted in just transition, workers, communities and those impacted by climate change- from the grassroots. 
Climate Justice Alliance - We envision a world in which fairness, equity and ecological rootedness are core values.
______________________________________________________________________________________________________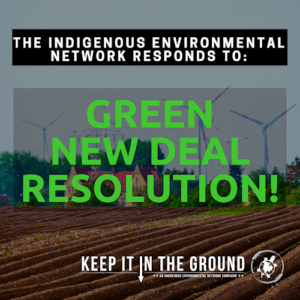 February 13, 2019 - The Indigenous Environmental Network applauds the Green New Deal resolution for its vision, intention, and scope. With this resolution, Representative Ocasio-Cortez (Resolution House of Representatives) and Senator Markey (Resolution US Senate) have begun a critical process to change the national conversation in regards to addressing the climate crisis at hand. From sea level rise to loss of land to food insecurities, Indigenous frontline communities and Tribal nations are already experiencing the direct impacts of climate change, and we are encouraged to see these congressional leaders take charge to help Indigenous communities and Tribal nations protect their homelands, rights, sacred sites, waters, air, and bodies from further destruction.
 
However, while we are grateful to see this support by the Representative and Senator, we remain concerned that unless some changes are made to the resolution, the Green New Deal will leave incentives by industries and governments to continue causing harm to Indigenous communities. Furthermore, as our communities who live on the frontline of the climate crisis have been saying for generations, the most impactful and direct way to address the problem is to keep fossil fuels in the ground. We can no longer leave any options for the fossil fuel industry to determine the economic and energy future of this country. And until the Green New Deal can be explicit in this demand as well as closing the loop on harmful incentives, we cannot fully endorsee the resolution We remain supportive of Representative Ocasio-Cortez and Senator Markey's aspirations and hope to be constructive partners in actualizing the goal of generating radical change in the fight to protect the sacredness of Mother Earth.
 
CLICK HERE to read the entire detailed assessment of the main problems we see in the current language of the Green New Deal
______________________________________________________________________________________________________
A Positive Vision for what the Green New Deal Could Be
NEW ARTICLE February 10, 2019 - The Green New Deal is front and center since a resolution has been proposed in Congress
Until we confront capitalism, we will not solve the climate crisis.
Interview with Simon Pirani about his book Burning Up: A Global History of Fossil Fuel Consumption. Interviewer: Anton Woronczuk
"The "green new deal" appears to have several meanings. It has been used by mainstream neoliberal politicians to describe an investment program, operated completely through markets, that would shift the economy away from fossil fuels. The left-wing politicians you mention see the "green new deal" as a program of state infrastructure investment, a mobilization of resources on the scale of a war effort."
Gar Alperovitz - Replacing Corporate Capitalism: Why We Need a Next System | Bioneers (30 minute video)
Gar Alperovitz, co-founder of the Democracy Collaborative and co-chair of its Next System Project, will show how we can begin to build together for the systemic change we need to save both democracy and the planet. As a political economist, author, former legislative director in the House and Senate, nonprofit innovator and scholar, Gar will share breakthrough models for community-based political-economic development and new institutions of community wealth ownership. He'll highlight local, state and national policy approaches to community stability in the era of globalization that really work and can spread widely. To learn more about Gar Alperovitz's work, visit www.garalperovitz.com
---
How to join the conversation:
We will be using Zoom video conferencing, which is very easy to access by computer or regular telephone. If you choose to use your tablet or smartphone, be sure to download the Zoom app ahead of time. We will be starting each meeting on time so please connect 15 minutes before the call so that the host can help with any technical difficulties or questions you may have. Once the call starts the host will be not be able to help with connection issues. Once you are connected via Zoom you are welcome mute your microphone and turn off your video until just before the meeting starts, or you may enjoy chatting with others in the meeting while you wait.
Instructions and access to Zoom conferencing
If you would like to receive future monthly reminders for the EASJ meetings or any of the other groups, please click here and indicate your interest. We'll add you to our mailing list for the group(s) you check.
---
Learn more about what we have been discussing: See our Examining the Roots of Injustice webinar (watch it HERE)
And see our Elders in Right Relationship with Today's World two session webinars (watch them HERE)