This 4-session online workshop (2 hours each), with extensive interaction with other attendees, will be based on seeking right relationship to all peoples and our Mother Earth. Developed by the Elder Activists for Social Justice group of EAN, as a group we turned out to be mostly descendants of settler/colonizers and immigrants from Europe.
We have endeavored to learn the truth about our own family history so as to better understand our place now, in particular as elders and people dedicated to creating a better world for future generations. We wanted to understand how we got where we are embedded in a culture of continuing oppressions, and on-going harms, in crisis mode today. We will be using a social justice lens to look at the history of white supremacy and systemic racism in the US. We have noticed a disconnection with our own authentic sense of self, particularly as elders in this culture, but also in grasping what responsibility do we have for our own lifetimes and all the past lifetimes that created us today. 
What is our role as elders in this current culture, facing the social injustices in our lifetimes and in our lineage, and proclaiming our moral voice for a better world?  
Facilitated by Molly Arthur and Molly Brown
Registration is on a sliding scale: $45-$75
(Please invite your friends on Facebook too)
Here is the Resources/homework Page for the Series, Session 1 is now posted, the subsequent sessions will be posted 10 days before they occur
WHEN
April 03, 2019 at 9am
rsvp
---
Elder Activists for Social Justice
Community Conversations


3rd Thursday of each month
9:00 - 10:30 am PST / 12:00 - 1:30 pm EST


We participate together over Zoom video conferencing in a lightly-facilitated, educational and interactive conversation. We have time to deep dive into our topics using an Elder and social justice lens...always provocative, meaningful and community-oriented.
We began, three years ago, by looking at issues related to racism, white privilege, wealth inequality and Islamophobia, and have recently studied Native peoples' history, reconciliation and the moral voice of an Elder. Each month's topic grows from the previous month's and the interests of those attending.
Approximately two weeks before each meeting we may post resources about our subject which include relevant readings, videos, articles, and introspective questions. Our meeting format is participatory, and everyone has a chance to interact and share. All meetings are via Zoom video conferencing. Click for instructions and access to Zoom conferencing. ALL ARE WELCOME.
---
Our next Community Conversation will be on
Thursday, March 21 
9:00 - 10:30 am PST / 12:00 - 1:30 pm EST
Please invite your friends on Facebook too
What's so "Just" about The Green New Deal?
We in the Elder Activists for Social Justice look at the world through a social justice lens. So, what is "Just" about the Green New Deal? What components address the injustice in our systems? Who is defining a "Just Transition" and acting to bring it forth in our world?
Take a look at the two organizations below (Climate Justice Alliance and Indigenous Environmental Network) who represent those most affected by the current injustices today. They have a very clear understanding of what is unjust about our world today and what actions need to be done to shift our paradigm to more fairness, equity and ecological values.
Let's discuss what we as Elders understand as our role and responsibility in the history of these injustices and what our obligation is to repair our world for the well being of all life now and for future generations.
We will also consider adopting and publicizing a Resolution of Support for the Green New Deal (a draft is posted here). We'll also talk about the actions we are doing now to support the changes needed and offer the gifts we are realizing as elders are needed for our continued existence on our Mother Earth.
In our Community Conversations we draw on the experience and wisdom of our group to better understand the critical issues we are facing and discern what actions we would want to take as elders in our society today. We offer moral support for each other as we grapple with the issues and challenges of our times and discern how to best support the activism that we are each engaged in.
Resources:
The Climate Justice Alliance (CJA) formed in 2013 to create a new center of gravity in the climate movement by uniting frontline communities and organizations into a formidable force. Our translocal organizing strategy and mobilizing capacity is building a Just Transition away from extractive systems of production, consumption and political oppression, and towards resilient, regenerative and equitable economies. We believe that the process of transition must place race, gender and class at the center of the solutions equation in order to make it a truly Just Transition. 
February 13, 2019 - More insightful input on Green New Deal from the Climate Justice Alliance: Green New Deal must be rooted in just transition, workers, communities and those impacted by climate change-from the grassroots.
______________________________________________________________________________________________________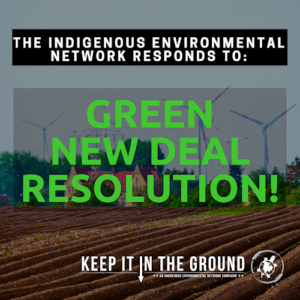 February 13, 2019 - The Indigenous Environmental Network applauds the Green New Deal resolution for its vision, intention, and scope. With this resolution, Representative Ocasio-Cortez (Resolution House of Representatives) and Senator Markey (Resolution US Senate) have begun a critical process to change the national conversation in regards to addressing the climate crisis at hand. From sea level rise to loss of land to food insecurities, Indigenous frontline communities and Tribal nations are already experiencing the direct impacts of climate change, and we are encouraged to see these congressional leaders take charge to help Indigenous communities and Tribal nations protect their homelands, rights, sacred sites, waters, air, and bodies from further destruction.
 
However, while we are grateful to see this support by the Representative and Senator, we remain concerned that unless some changes are made to the resolution, the Green New Deal will leave incentives by industries and governments to continue causing harm to Indigenous communities. Furthermore, as our communities who live on the frontline of the climate crisis have been saying for generations, the most impactful and direct way to address the problem is to keep fossil fuels in the ground. We can no longer leave any options for the fossil fuel industry to determine the economic and energy future of this country. And until the Green New Deal can be explicit in this demand as well as closing the loop on harmful incentives, we cannot fully endorsee the resolution We remain supportive of Representative Ocasio-Cortez and Senator Markey's aspirations and hope to be constructive partners in actualizing the goal of generating radical change in the fight to protect the sacredness of Mother Earth.
 
CLICK HERE to read the entire detailed assessment of the main problems we see in the current language of the Green New Deal
______________________________________________________________________________________________________
Further resources:
Real change begins with a clear and coherent vision of a better America, and with citizens' movements dedicated to bringing that world into being. We offer this agenda for economic change in that spirit.
But over 90 well-known veterans of the successful 2018 campaign have signed a bold new Pledge to Fight for Good Jobs, Sustainable Prosperity and Economic Justice. And these initiators have now been joined by 20,000 (and growing) grass-roots activists. Our message is "Yes, fight Trump – but Americans also want to hear big solutions to the large economic problem our country faces."
There's Nothing Radical About the Green New Deal by Kristine Mattis
Our insatiable yearning for more has left us with less of the one thing upon which our entire lives depend: the natural world.
________________________________________________________________________________________________________
We have compiled this media collection from our 30-year history to feature some of the most innovative thought leaders working on these topics. The videos, podcasts and articles below are presented within a loose framework based on the Green New Deal's larger goals. This is by no means a comprehensive list, but more of a starting place to remind us that we have the expertise on hand to do what must be done. The question has always been how do we get these solutions to scale in time?—The Green New Deal may well be a large part of the answer.
---
How to join the conversation:
We will be using Zoom video conferencing, which is very easy to access by computer or regular telephone. If you choose to use your tablet or smartphone, be sure to download the Zoom app ahead of time. We will be starting each meeting on time so please connect 15 minutes before the call so that the host can help with any technical difficulties or questions you may have. Once the call starts the host will be not be able to help with connection issues. Once you are connected via Zoom you are welcome mute your microphone and turn off your video until just before the meeting starts, or you may enjoy chatting with others in the meeting while you wait.
Instructions and access to Zoom conferencing
If you would like to receive future monthly reminders for the EASJ meetings or any of the other groups, please click here and indicate your interest. We'll add you to our mailing list for the group(s) you check.
---
Learn more about what we have been discussing: See our Examining the Roots of Injustice webinar (watch it HERE)
And see our Elders in Right Relationship with Today's World two session webinars (watch them HERE)
WHEN
April 18, 2019 at 9am
rsvp
---
Elder Activists for Social Justice Calendar
Join us online at our Community Conversations monthly  and our Business Meetings monthly and to our SPECIAL EVENTS - listed here:
More info below!
See all events
---